August 6, 2010 - 11:00 AM
We suspected the heat was getting to Zeke but it was confirmed once we got down from St. Peter's Cemetery to the Domplatz. He was really excited to pick out an Austrian knife as a souvenir but immediately afterwards he made a disoriented dash to the nearest trash can and threw up all his breakfast. Josh got him cleaned up and we sat under a cool archway. Zeke was smiling and feeling much better after puking, but was definitely overheated. The trouble was NOTHING indoors was open (even if it was open there was certain to be no AC) so we grabbed a snack and then retreated to the AC of the car.
We drove (a beautiful drive with a view to the south of the Alps for the whole drive, mind you) to Munich as planned, hoping the AC and rest for Zeke would help, then we could find dinner in AC to help continue to keep Zeke cool. When I was a little girl I got heat stroke often so I knew what to expect. It would generally happen after a long day of swimming, but when it would happen I'd throw up once, rest for a while, drink water and be better. I was hopeful for the same type of healing for Zeke.
We got to Munich and went to the main square Marienplatz hoping to find an AC restaurant to eat dinner since Zeke was tired but hungry. Sadly, it was the same unbearable heat in Munich as in Salzburg. We found an ice cream joint that had indoor seating but no AC. I ordered 4 waters but I forgot what country I was in and paid a hefty $3 for each small 8oz bottle. Yikes! They did bring ice, which I used to rub on Zeke's neck to help cool him down while Josh walked the square looking for any place with AC, but he came back empty. Josh, Max & Miriam shared a fancy ice cream sundae (Zeke was no longer in the mood for food, and I was in trying-not-to-be-worried-mama-mode and couldn't eat) and then they went to a fountain to play. But the fountain was filled with trash so they were quickly back.
Our time in Munich was turning hopeless as within the hour there: Josh was finding nothing, the square and fountain were trash city, Zeke was becoming more tired, and to top it off, the restaurant said it was closing and they kicked us out on the street.
As soon as we were outside and on the Marienplatz square, Zeke said, "I think I'm going to throw up" and even though he says he missed the trash can, it was overfilled with trash a foot high (which was true of every Munich trash can) and would have been worse had he made it. He ended up spewing water and chunks all over the busy sidewalk while I held him from falling into his own vomit. A passerby was kind enough to hand Josh some napkins and thankfully nearby was a public drinking water spigot to wash the vomit off our feet.
With that, we said goodbye to Munich. Only 6 photos taken in Munich, and this one sums it up: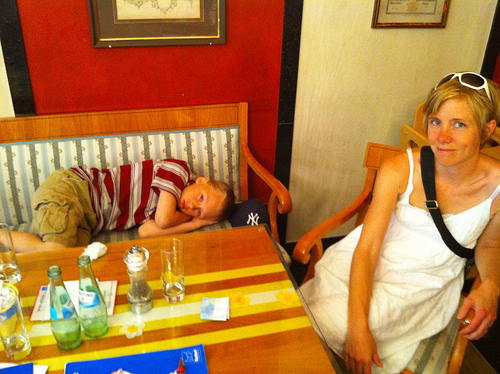 I suppose one would say we should have just headed straight for "home" instead of Munich. No matter how you sliced it, things were not going to be "perfect" this day. It was about the same distance to "home," aka Leah's apartment, adding only an hour more car time to drive thru Munich. I was honestly hopeful he would have healed like I used to, but on a continent where AC is a novelty and fans are scarce, it was near impossible to cool down, even for us.
When I think about it then/now, the timing of it all, it was either going to be puke in the car or puke in the main Munich square. Quite honestly, I am happy it happened where it did. Zeke, too, was the ultimate trooper. Even sick, he was so excited we got to drive on the Autobahn and drive up to 105mph. He loved seeing (/get passed by) SO many amazing sports cars he'd only seen pictures of before. Max and Miriam were troopers, too, they were sticky but full of energy and just rolled with the spew, I mean flow, HA! (Ok, that was kind of gross, Dana.)
When I think about it then/now, it is all part of the adventure that we call "life." I've said it before, even on vacation "life" happens and we have to keep moving. Thankfully, Zeke didn't throw up again, but it did take 24 hours and a load of prayer to get him feeling better. It wasn't how we had planned the vacation half of our trip but we didn't plan on a lot of things: me getting bit by a deer tick before leaving for Europe, me having a severe toxic reaction to the medicine, Josh getting strep throat the day before leaving, kids having sore throats and coughs throughout camp, Miriam throwing up donuts in the middle of the night, and now Zeke having heat stroke... and we still had 4 more days of "life" to happen while on vacation.
Yes, more unplanned fun was to come!
OH! But there were perks to our sidetrack to Munich as Josh found Faxe Bier, and this made Josh very happy! Max and Miriam ate these German paprika flavored kangaroo shaped snacks called Jumpys, that they loved! Max also got some German candy all his own that made him OH SO happy. I was still reasonably r e l a x e d while Josh was driving an average of 95mph on the Autobahn and the soon-to-be-funny phrases "if you're going to throw up, use the blue bag" and "take another sip of water for mama" were born from my lips.
AND! I would go back to Munich again, only I would do it on a not as hot day and pay to go on one of their 4 hour city tour bike rides.