November 11, 2008 - 10:17 PM
Generally I prefer staying off the beaten path, but sometimes you just have to do something IF you happen to find yourself a block away...
While in NYC I remembered that there was an Indian restaurant that had been featured on FOX's Kitchen Nightmares. Now I know what you are thinking, "Why go to a once dump that could still be or have turned back into a dump?" Welp, sometimes the risk is worth the story.
To note: Josh and I love Indian food, we have recently found this Indian food joint in town that we have fallen in love with the food / owner, and when it comes to food, we love to try out new places.
The latest Revisited episode from KN showed that the restaurant (http://purnimarestaurant.com/) was still doing great and had kept their cleaned up act, even inviting diners to tour their kitchen and storage. I was confident on the food quality but it was definitely the sanitary quality that scared me the most.
As seen on TV? The place looked like on TV (though the wide angle lens used during filming definitely made the place look 3 times as large). TV made the decorative elements shine like an actor's face through cheese cloth (meaning, though beautiful - in person you could tell the decor was built in a day). Thankfully too, the place looked clean and tidy.
What about the food?
One thing I like to do is ask the waitstaff what is their favorite dish (generally, this bites me in the behind as they will just tell me what they think I want to hear or what most people order) and our waitress played along. We got the Channa Chat, per her suggestion, to start and Josh got his favorite Korma and I tried her "favorite" Tikka Masala.
Waiting for our food Josh was quizzing me on the episode and I am filling in all the details about Chef Ramsay, the restaurant, the new chef... when who should come out and deliver our starter than THE chef himself. He was as smily as ever and we were the only ones he personally delivered a dish to the whole evening. (The first photo below was taken as fast as possible but it was so delicious we started eating and messed up the presentation before we got the shot off.)
To note: I actually had the thought that the waitstaff was trained that if someone OBVIOUSLY looks like an out-of-towner they are to tell the chef and he will show his face... hmmmm...
In any event, the food was delicious. One thing Chef Ramsay always stresses is fresh food, nothing canned or frozen and the food here was definitely fresh and crisp. Another amazing treat was how you could taste each spice - it wasn't a blend / mush of flavor. Have you ever heard a food columnist say a dish has very delicate tastes or distinguished flavors? Honest, when you would take a bite you could taste each sliver of spice in different places throughout your mouth... it was unbelieveable.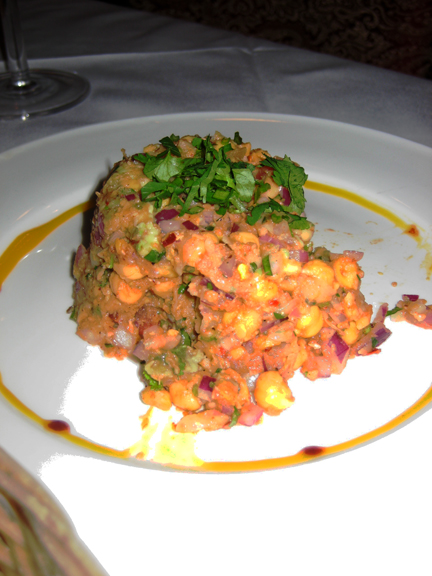 To top if off (a favorite of ours), the waitress brought out extra things we did not order - raita for my tikka masala and the most delicious dessert, an iced mango treat of some sort (no idea on the name). Our entire visit was an absolute treat and it doesn't bother me they played us like country bumpkins. For me, it is more about the company than the location and any date with my husband is deliciously entertaining and wonderfully memorable.
To note: Our waitress asked how we liked it and we said very much and commented how we love Indian food to which she asked, "Oh, so you eat it once a year?" To which we said, "No, once every week or so." You could tell by her expression, she did NOT believe us.