September 27, 2010 - 12:02 AM
This was it, our final destination and where we began our journey overseas - Prague. We checked into our 6-bed hostel room at The Czech Inn and then headed out to catch a tram to take us up to the Prague Castle. It was still HOT and even hotter on the tram. (And crazily, the tram did stop by Gehry's Dancing House, it was not as big as I had thought but definitely cooler than I thought!)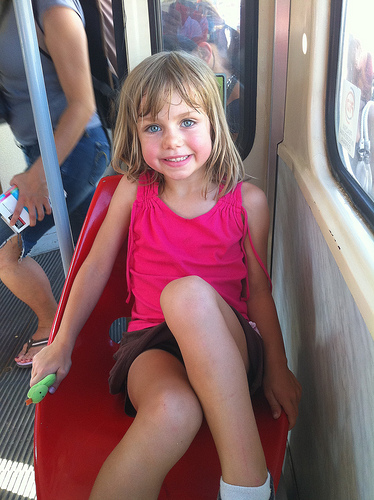 What I forgot to mention since Cesky Tesin is what happened to Max. Remember how Max was rolling around in the grass playing with the Ellenwood's dogs the night before? Max ended up being allergic to the grass he rolled around in, leaving his body ENTIRELY covered in puffy, white, itchy hives. Thankfully, I had my Burt's Bees Res-Q-Ointment and as soon as his hives would flare up, I would put on the ointment. But still, Max was miserable, breaks a mama's heart.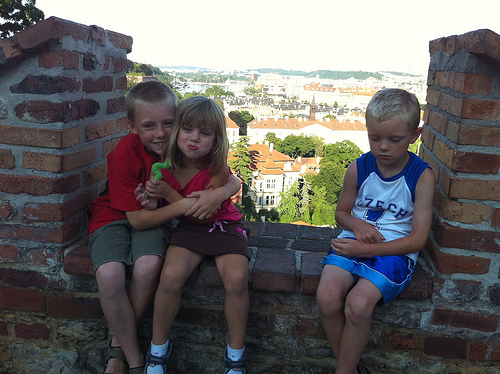 We arrived to the Prague Castle and St. Vitus gothic church at 10 minutes to 6, just before they were suppossed to close (Hooray!) but sadly we arrived just in time to find out the church had closed 5 minutes prior for a private service (OH NO!). I. was. crushed. I tried with all my midwestern, Iowa-girl kindness to get us into the church, just for a peek, but they wouldn't do it. Knowing we were leaving in the morning, knowing I'd be saying goodbye to my sister, knowing Josh really wanted to see the church's interior, having Max miserable, still recovering from our trip to Auschwitz, nearing the end of a fabulous 2 week family vacation to Eastern Europe, or maybe I was just sad we couldn't go in... whatever the reason, I ended up crying on the steps of the church. My slightly embarassed family comforted me and I snapped out of it. Goodness, my family is amazing. Thankfully, even though we couldn't go inside, we all enjoyed the castle grounds and the beautiful flying buttresses to their fullest.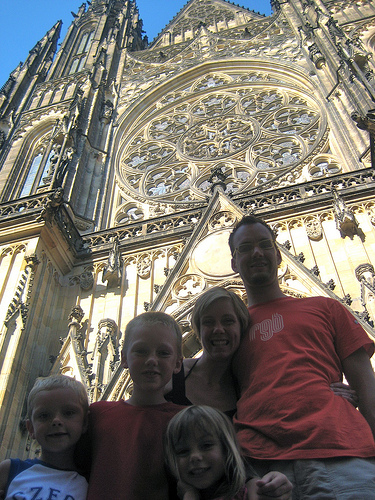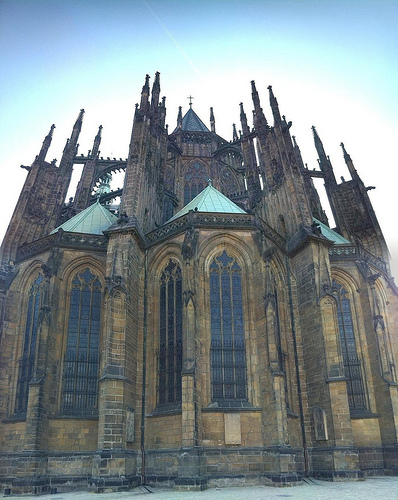 The long walk down the Old Castle Stairs to the river below was beautiful. The stairs were at the edge/side of the hill and gave a beautiful above view of the city, and definitely too beautiful to fit our beautiful panorama photo of it on my blog, :)!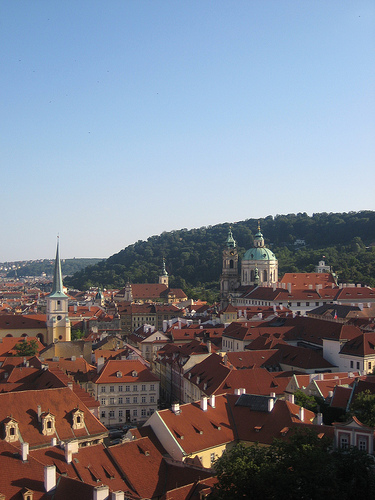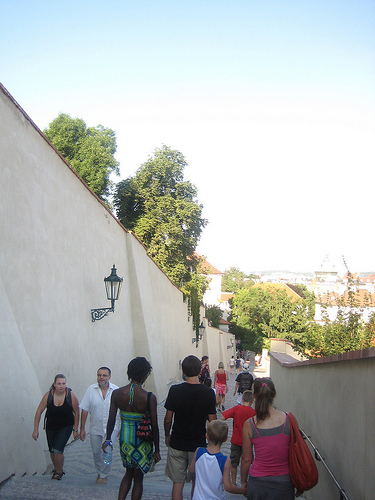 (Did you notice the beautiful roofs? Now go back and look at the photo of communist era apartment buildings. See why I used the sore thumb analogy? Can you imagine those buildings, twice as tall as anything around and definitely not as quaint? Ok, maybe it is just me. However, I should also note that throughout Prague, the lower 6-8' of each of those quaint buildings is covered in some form of graffitti, mostly black spray paint. Maybe it is the color "Quaint Black.")
We crossed the river at the most famous bridge in Prague, the Charles Bridge.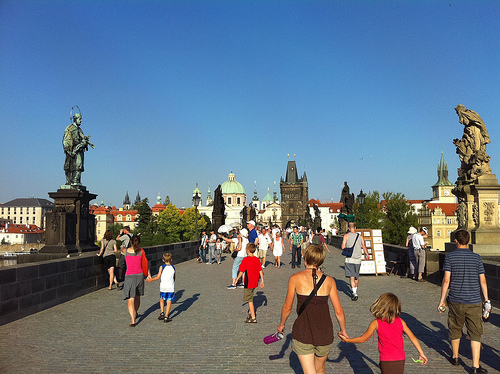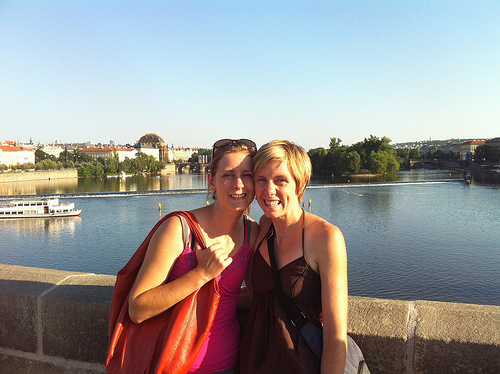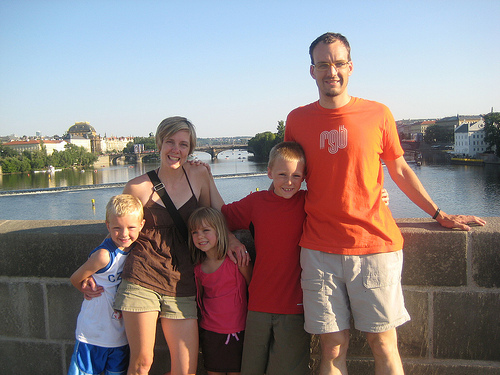 Even though we only had one night, we were not and did not rush ourselves at all. We strolled and soaked in every minute of the remainder of our evening in Prague with Leah: eating at Leah's favorite restaurant, listening to the sounds of the Bohemian Jazz Fest in Old Town Square near the Astronomical Clock, shopping for gifts for kids (I would have bought gifts for adults but I had a dad moment after spending a small amount of money on gifts for kids I couldn't bear to spend any money on adults, not even for postcards, oy!), while we shopped Josh enjoyed taking photos of all the cobblestone streets and manhole covers, we got to drink yummy brews, let the kids enjoy souvenir shopping in the countless/repetitive shops, ate gelato at Leah's favorite gelato place, walked around Old Town, walked to St. Wenceslas Square, rode on the subway and one of the longest escalators in Europe (100 meters long!), then got on a tram and made it back to our hostel at 11:30pm. Phew!
When traveling around Italy once, my friend and I had only 3 hours to spend in Venice. We jumped off the train, ran through the craziest maze of streets and bridges to San Marco, ran inside the church and then ran all the way back to the train station. Our tour of Prague was twice as long and there was no running, but we were merely skimming the essence of a city but not able to fully embrace everything it had to offer. Prague is definitely on my "must go back before I die" (i.e. bucket) list cities and hopefully next time for more than one night.