September 28, 2010 - 12:02 AM
Our Cramer family adventure of traveling thru Eastern Europe had ended, though not without a couple moments of unexpected fun.
We returned our VW to the rental car guys and they were SHOCKED (as shocked as we were) there was no damage or scratches to the car. I mean, the car was dirty, inside and out and you'd think it would have a scratch somewhere, but nope. Seriously, praise God!
The check-in line was LONG (since their website was down) and SLOW. When we finally made it to the front the check-in woman was RUTHLESS. Our 1 bag we checked was overweight and she was NOT going to wait AT ALL for me to rearrage the weight and said she was closing shop and we had to (in my words) SUCK IT and pay a HUGE heavy luggage fine. Yeah, I'm still bitter about that one. Josh says it is to be expected from airline travel. But if it wasn't for that idiot tax, we would have nailed our trip budget... Yep, still hurts.
Even though we made it to the airport early, the long, slow line made us late. From here everything was rushed, our plane was already boarding and we still had to go through 2 security checkpoints. We quickly said goodbye to Leah... Wow... How do I even begin to express how wonderful it was to spend good times and hard times with her in Czech?... No time for that - Bye, Leah. :(!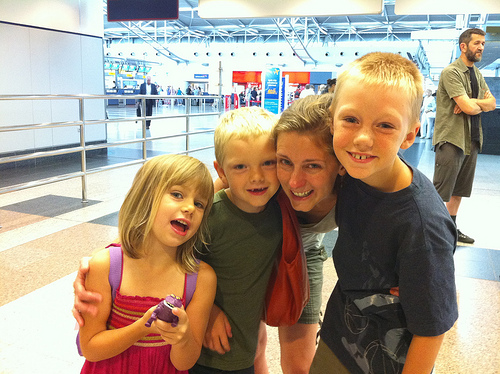 The passport security guard made each of our kids go through one by one, vs. letting us go through as a family like they did when we arrived. The guard sits raised up in this enclosed booth with a small slit to slide your passport through. There is a gate and a line of people behind you about 5 feet and a gate in front of you and to the side 8 feet. From the inside gate, I can still see just the top of little Miriam's head and watching her hand reach up to hand him her passport and confirming she is who she says she is. She looked little, but what a big girl for doing that!
We ran through the airport only to wait in a long luggage security line and finally made it on our plane just moments before take-off. All that rushing just to sit on a plane for 11 hours of daylight, phew!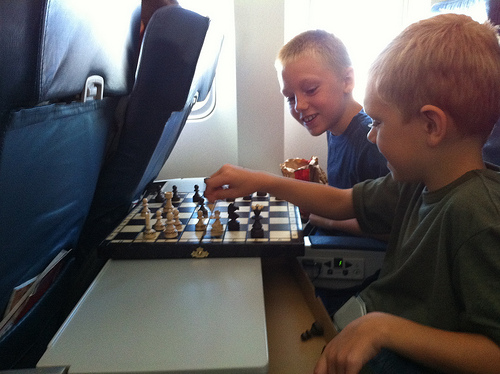 The boys pooled their travel money and bought a wooden chess set while in Prague. They had a lot of fun playing on the plane!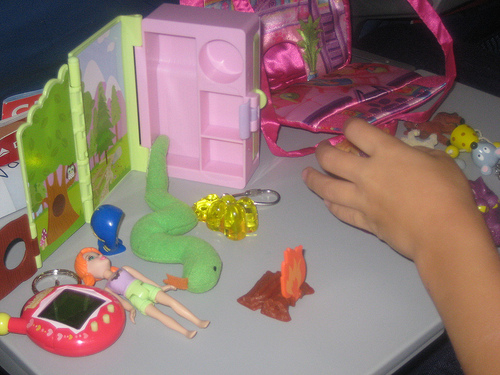 Unlike the rest of us, Miriam did sleep for a good chunk of the flight (6 hours!) but when not sleeping she was playing with her little things like this. I am truly amazed we didn't lose anything!

By the time we landed in Atlanta and got through customs it was 4pm (our bodies thought it was 11pm) and our flight to Moline didn't leave until 9:30pm (when our bodies would think it was 4:30am). We didn't want a 6 hr layover but it was the only available flight.
Max was the first to go while sitting at dinner.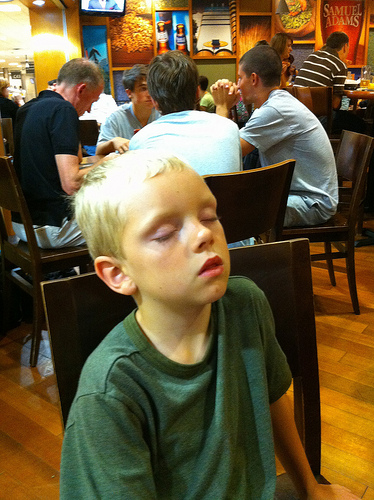 Zeke, Miriam and I were next, and we fell asleep in front of our boarding gate. Josh, thankfully was only partially last to fall asleep. He was awake enough to hear them change our gate just before boarding. We made multiple trips to get all our sleeping children and their backpacks to the new gate. We were both so groggy, Josh and I are still not entirely sure how we managed to get the sleeping kids and our luggage onto the plane in one trip. When we landed in Moline, Zeke woke up and said, "When are we leaving for Moline?" Yep, no idea how we got on that plane.
By the time my parents picked us up, we took them home to D-port and drove home to IC it was 1:30am (our bodies think it is 8:30am). Whoa. 24 hours of continuous travel from the time we left our hostel till the time we pulled in our driveway.
Whoa. 24 hours prior we had been in Europe. Thank you, God, for letting us have such an amazing trip, from camp to traveling in our VW, sicknesses and worries, everything!