June 10, 2015 - 7:17 PM
Travel Log: August 23 - 28, 2012
Goodness, do we love visits from family and friends! This time it was Josh's dad, Mark, who flew in from Minnesota for a long weekend. It was within moments of arriving in our rental home he commented about the same surreal, yet intimate, similarities with the owner and his late wife. It was also within moments we had him hiking up our favorite rocks and tackling altitude like a champ!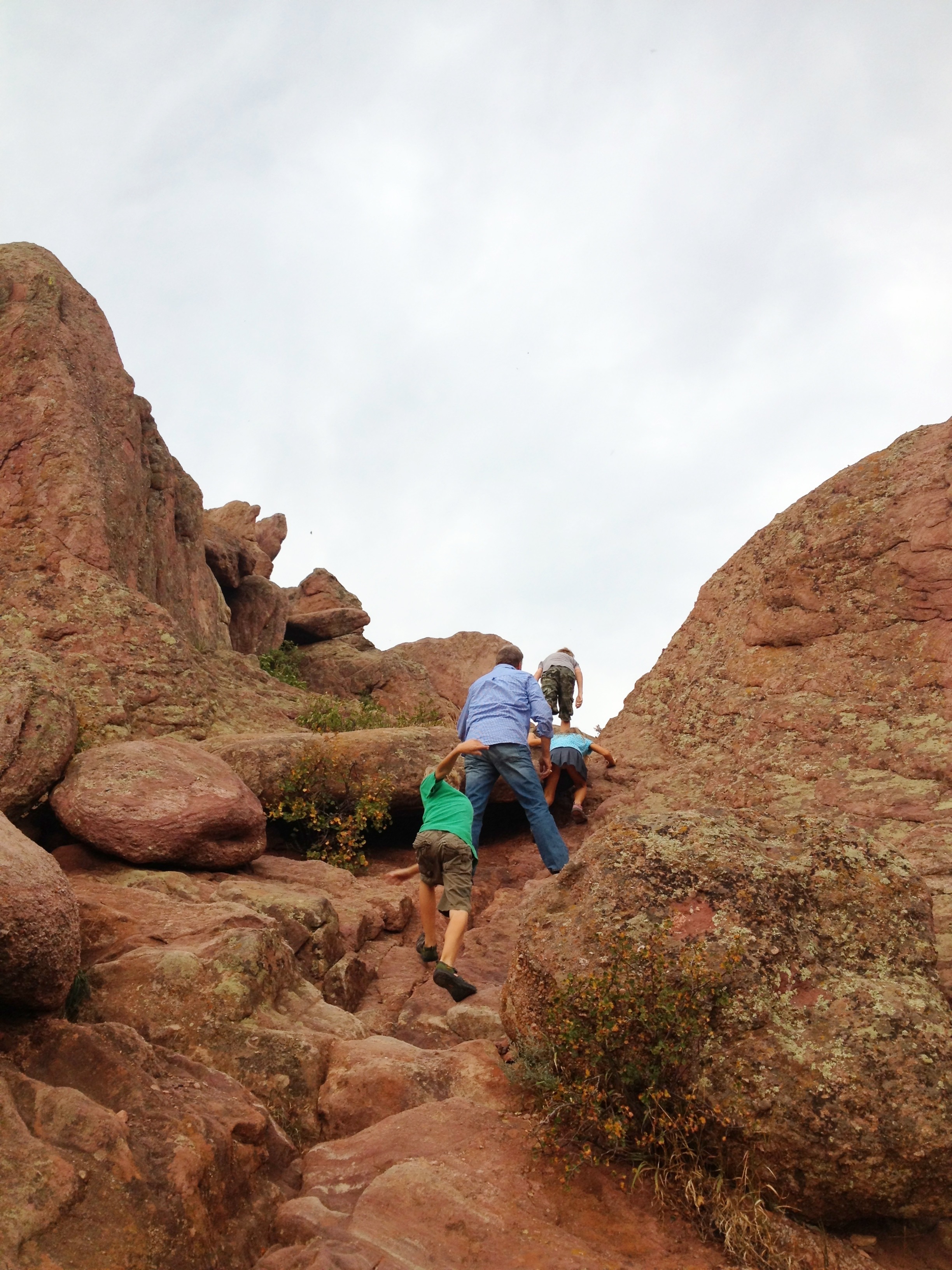 We took Grandpa on our favorite hikes near our house, walked around Pearl Street and went out to sushi, went fishing in the Boulder Creek, had burgers at a dive in the hippy mountain town of Nederland, drove up to Trail Ridge Road in Estes so he could see herds of elk and flocks of sheep, go out to Thai food with him and our Estes friends, had him babysit the kids by spending the day at the skatepark and having pizza in his hotel so Josh and I could go out to on a date. It was heaven.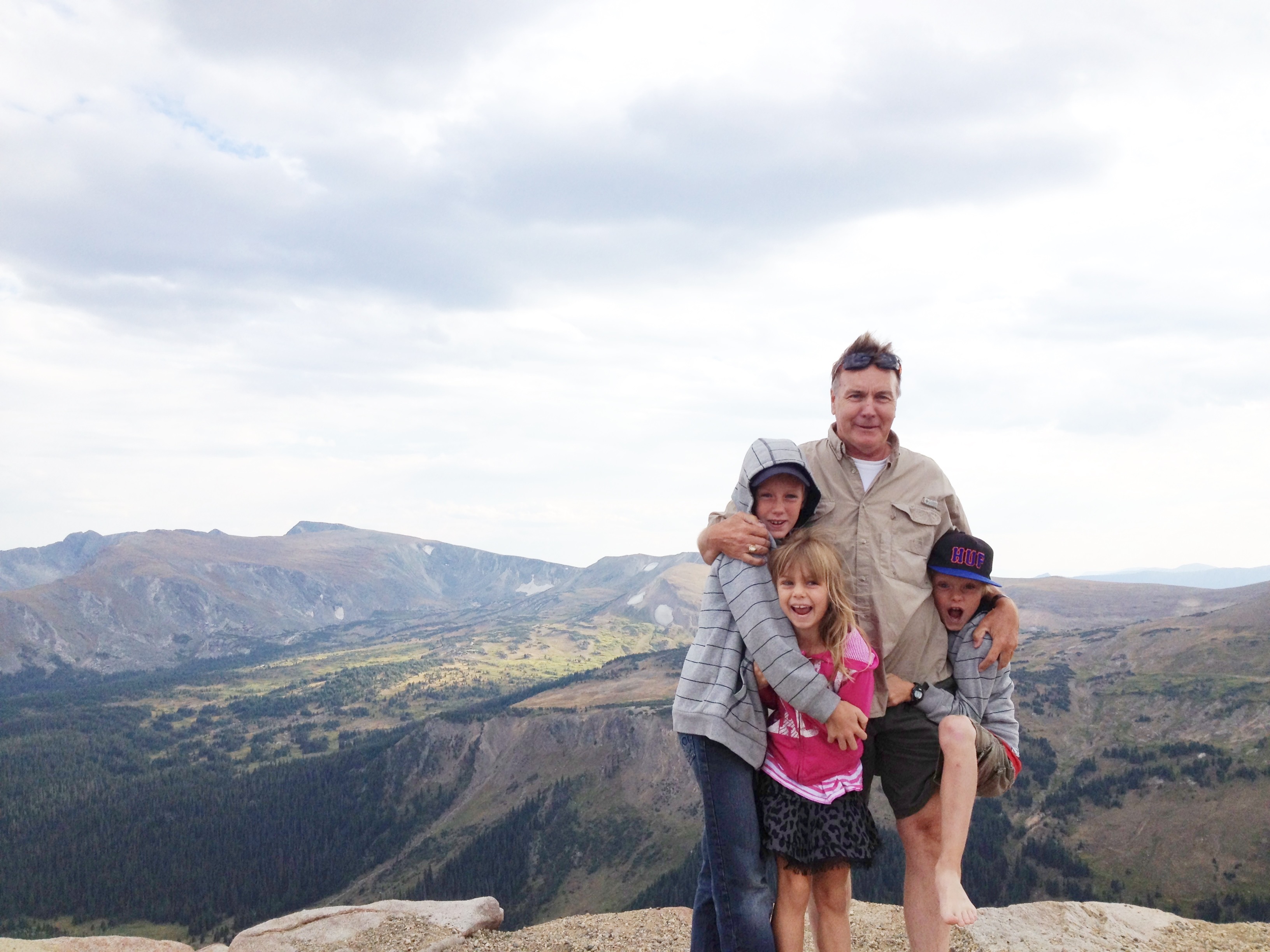 It just so happened that during Mark's visit that Stage 6 of the week long USA Pro Cycling Challenge 2012 was riding through Boulder twice. The stage started south in Golden, came to Boulder and looped through downtown, scooped a mountain loop to Nederland then Lyons, then finished back in Boulder at the top of an intense hill climb on Flagstaff Mountain. Flagstaff Mountain is located just north of the Flatirons and the road, Flagstaff Road, is a narrow two lane road with intense switchback. The finish was partway up the mountain at the Sunrise Amphitheater, 3.5 miles with 2000+ feet of climbing, having an average 11% grade. (And this is after they rode 100 miles and climbing thousands upon thousands of feet already, oy!)
I'll admit, when we first waited to watch the riders come through the straight, flat downtown streets, it was fairly ho-hum. It was exciting for the 10 seconds that the riders zipped past and exciting when their support cars brought up the rear, handing out swag, but then it was over. Leaving you to think, "That was it?"
Then we walked over to Flagstaff Road.
If you look at a map of Boulder, you will notice there is green space around most edges of the city, making it so that no other city touches Boulder. From reservoirs to parks to wildlife habitats to greenways, this area is part of the Open Space and Mountain Parks Department (OSMP) and has been created and maintained as a nature buffer of protected lands around the city that prevents development from taking over these open spaces. (It is also the reason why land is so expensive in the city of Boulder.)
The City of Boulder wanted to make certain that the Boulder Mountain Park, part of the OSMP where Flagstaff Mountain is located, was not damaged during the Pro Challenge. Wristbands were issued at the ride festivities in downtown to control the number of people who were allowed into the area. They shut down Flagstaff Road to all car traffic and shut down all the nature trails to foot traffic. There was no choice for those wanting to see the finish but to go through a checkpoint and then walk/ride up Flagstaff Road. From base of the road, you could tell a party was starting...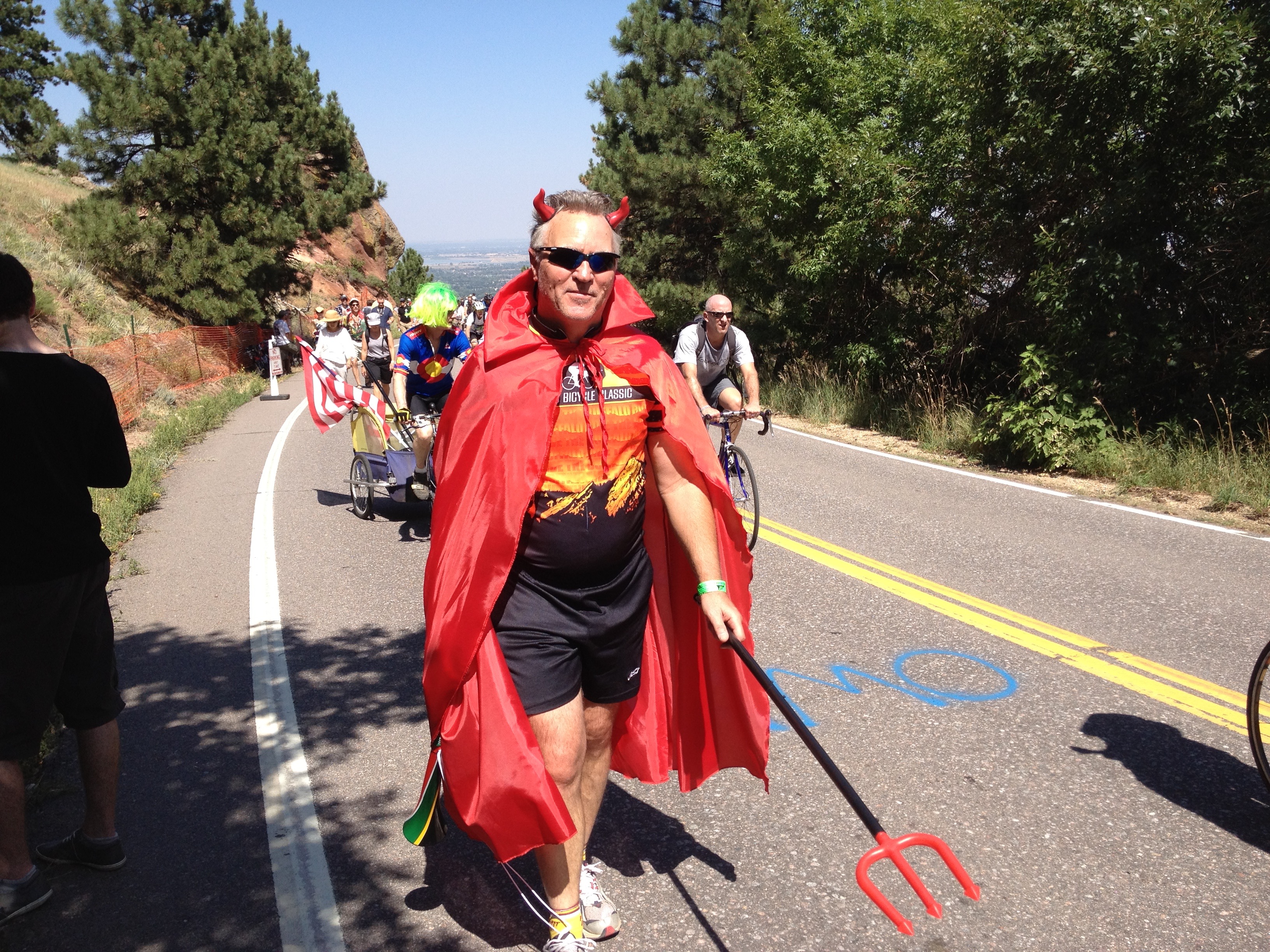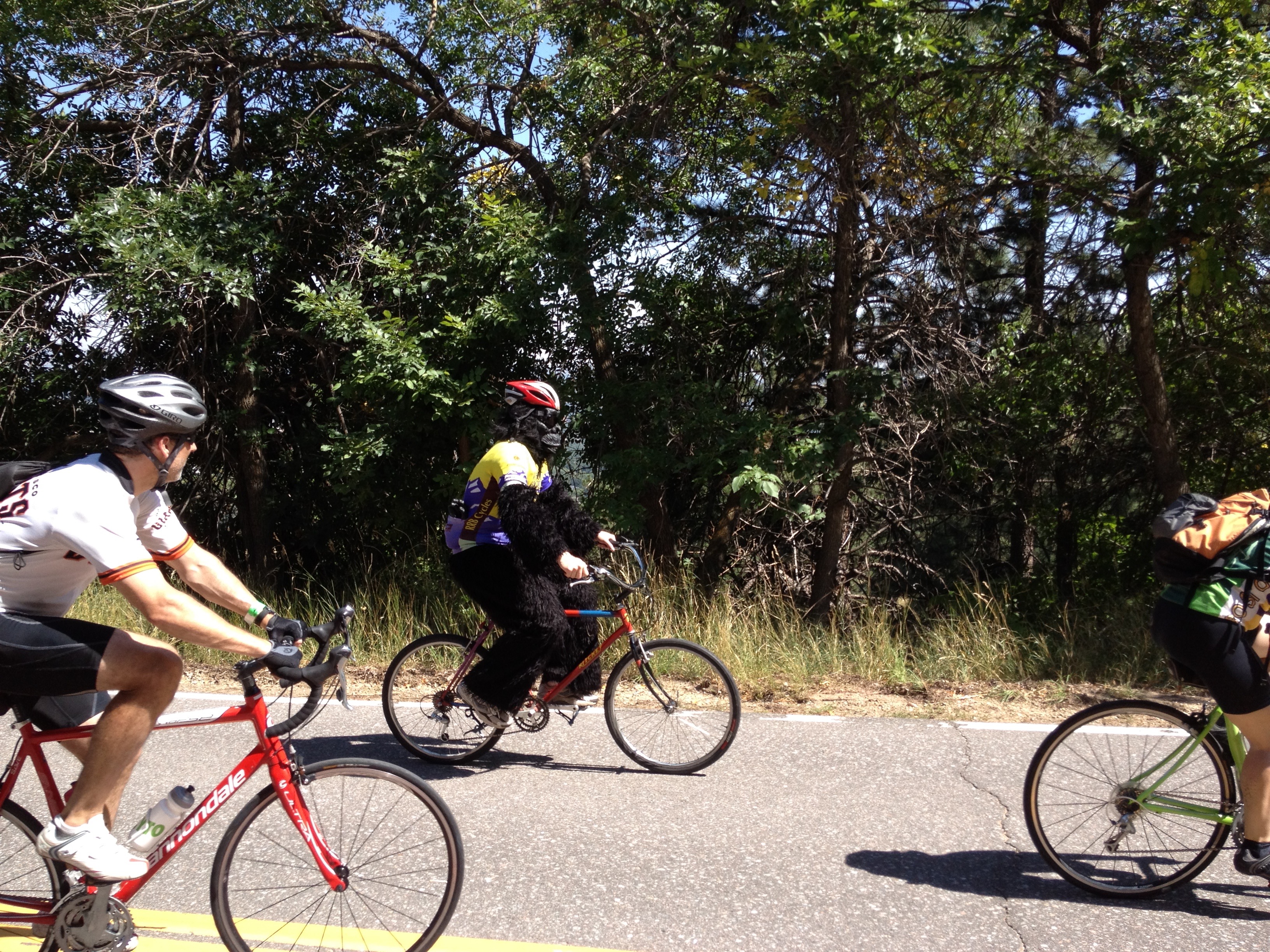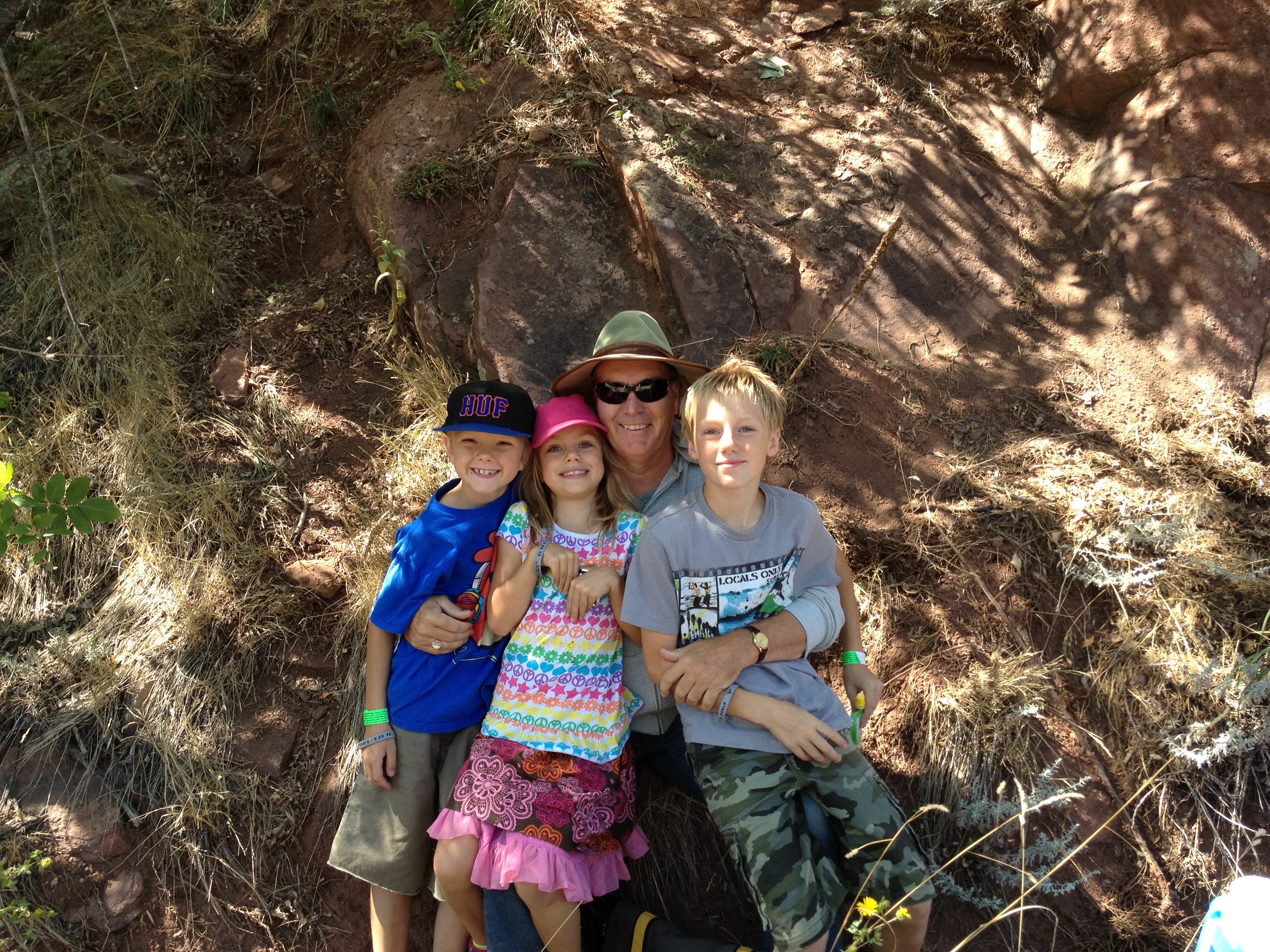 Mark and the kids had walked from home to downtown then to the base of Flagstaff Road and started climbing up the road when they found a nice shady spot and called 4 miles of intense heat good enough for them. Josh and I continued up the road since he knew that hill climbs were the most exciting part of a bike race for spectators and he wanted to get up to one of the more challenging inclines by the switchbacks. Once we got there, the party was in full force...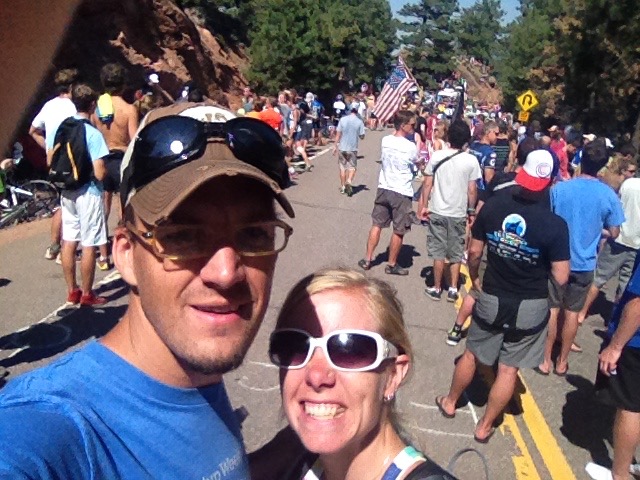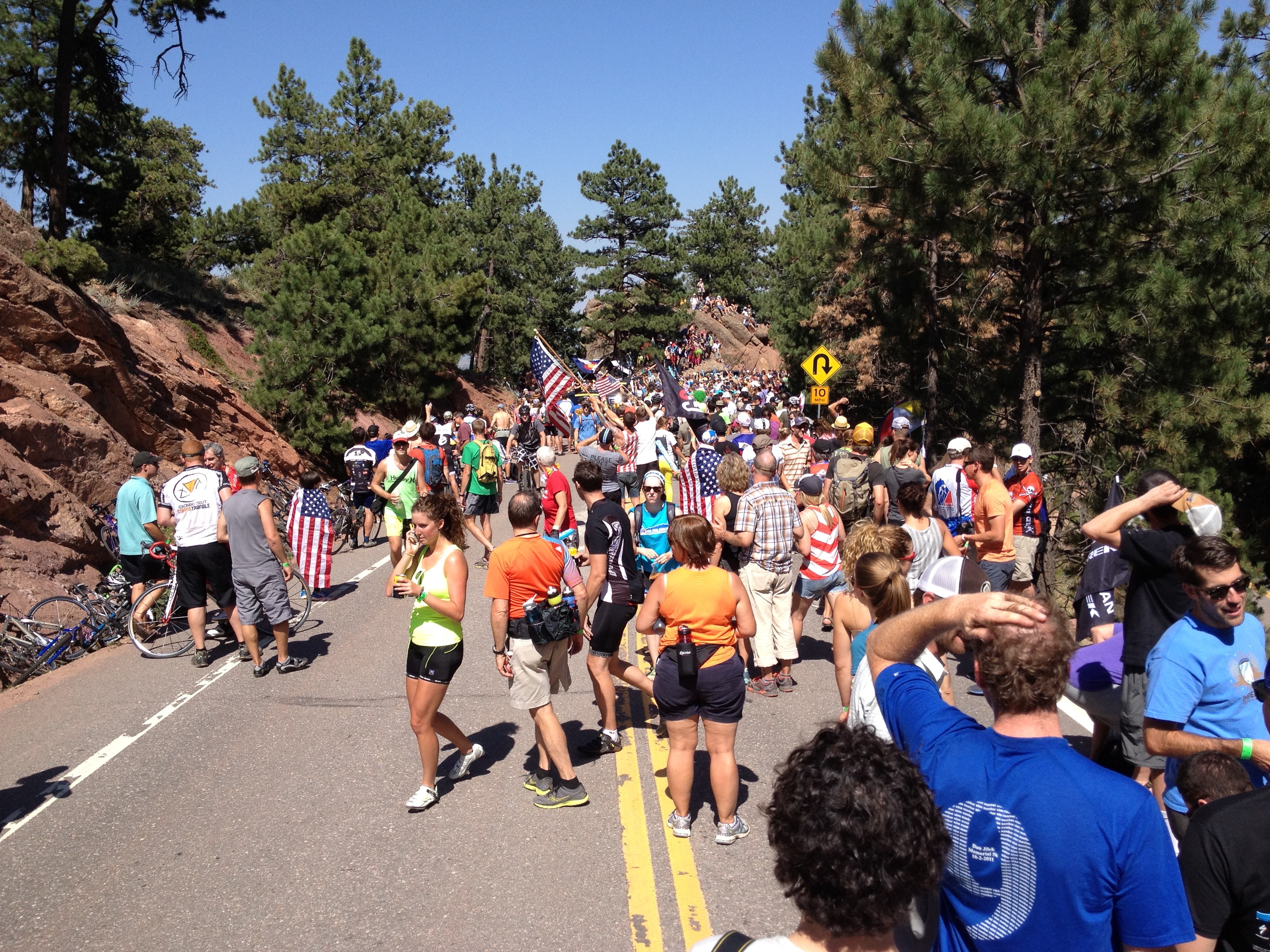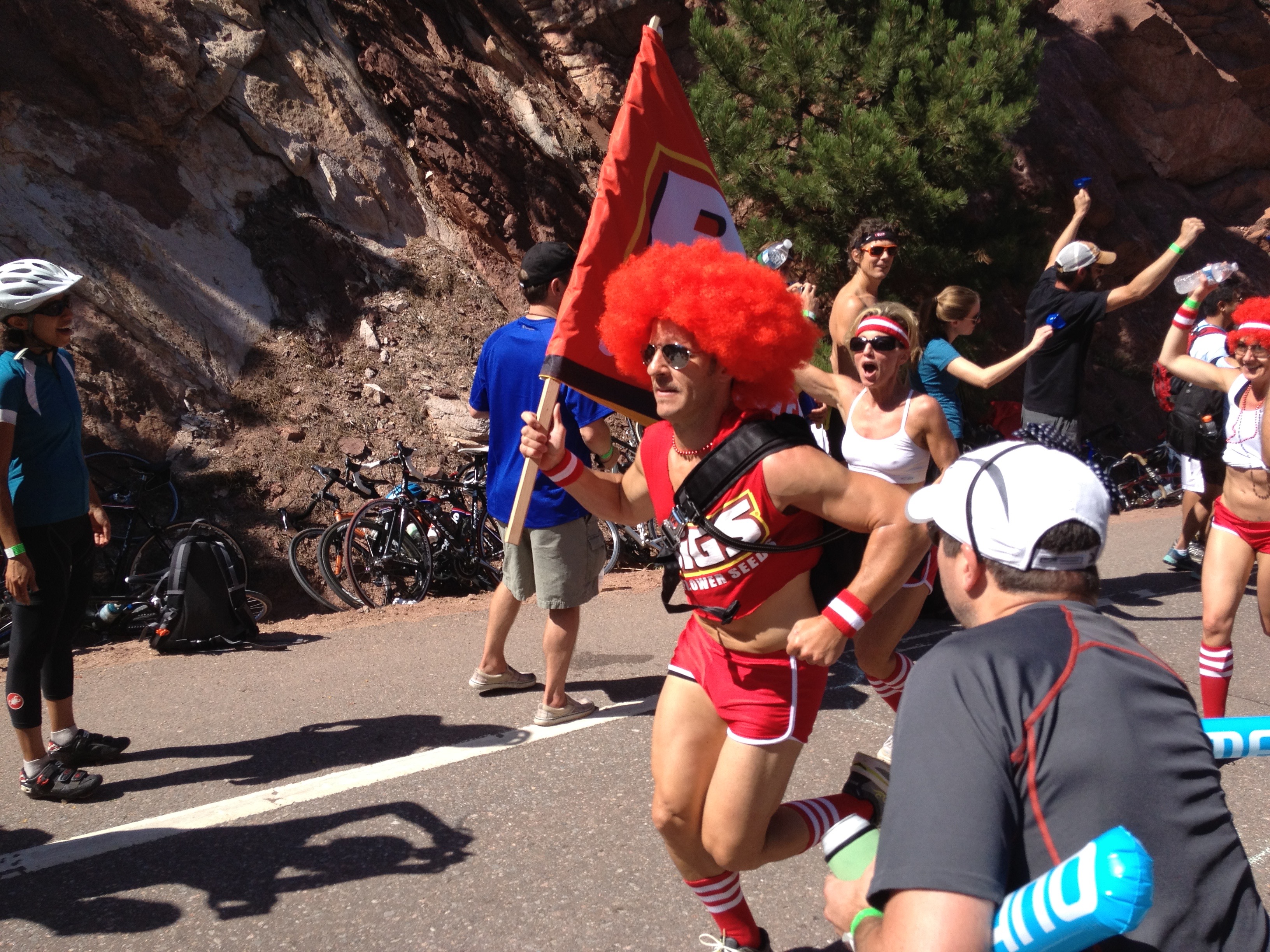 And it wasn't just the outfits. Once we got to the switchbacks, we saw that someone had pulled up an enormous sound system with generator (on their bikes!) and started this huge dance party in the middle of the street.
When the first cars and motorcycles started driving up the road, signifying that the riders were coming soon, they were barely able to squeeze between the spectators, and the crazy crowd banged on car hoods and high-fived the motorcycle riders. Thankfully, the crowds parted a little more for the riders. Part of the reason why hill climbs are exciting for spectators is that the riders are no longer in a pack / peloton. Hills are every man for himself, riders and teammates get separated, breakaways from unknowns are made, strong hill climbers take over the sprinters, and everyone is struggling to make it up this intense climb.
When we finally stopped to watch the riders we had some extra space, so another fun thing to do on hill cimbs is to race the cyclists up the climb. It's goofy, but come on, when else do you get to race Jens Voigt up a mountain?!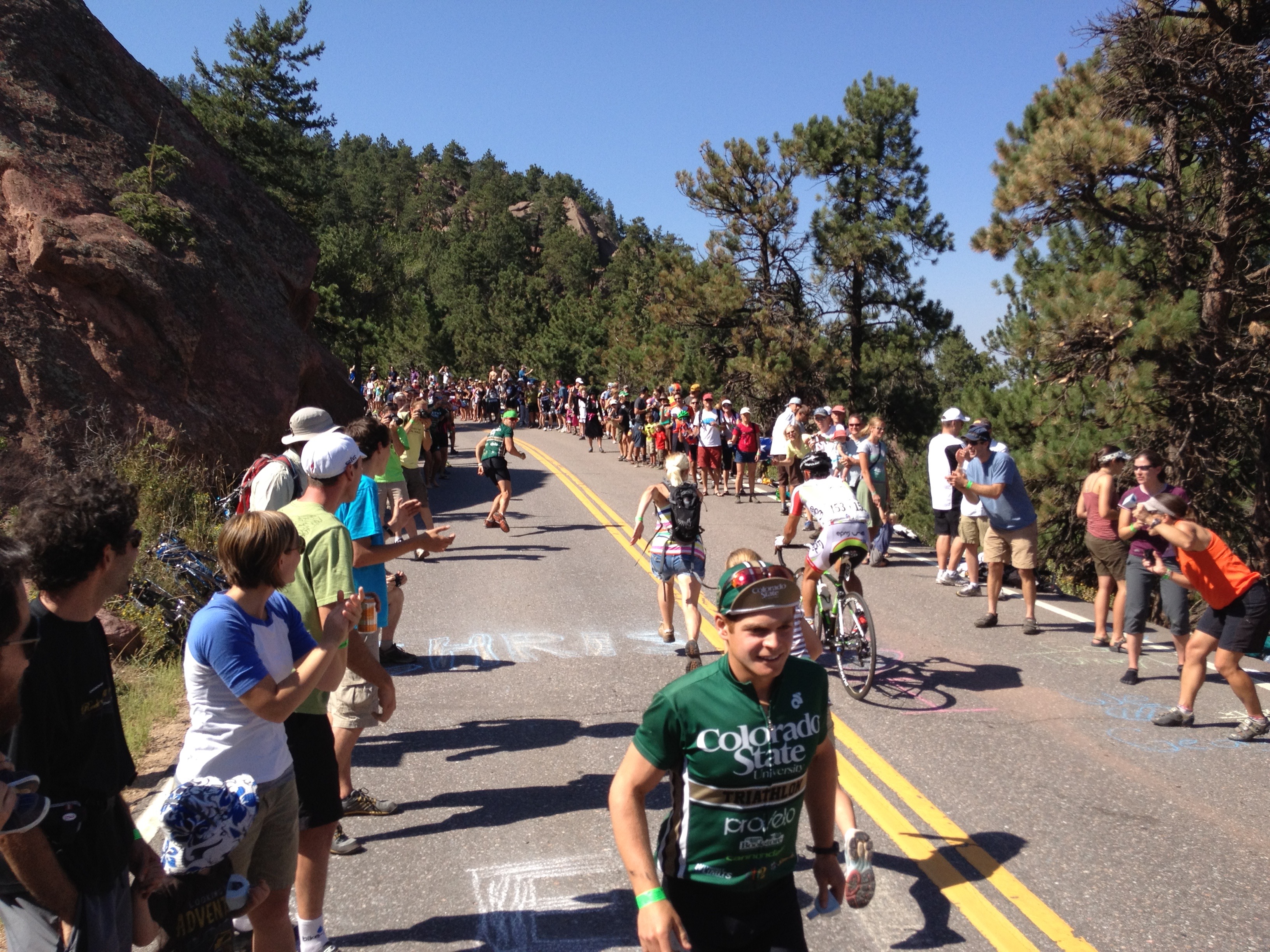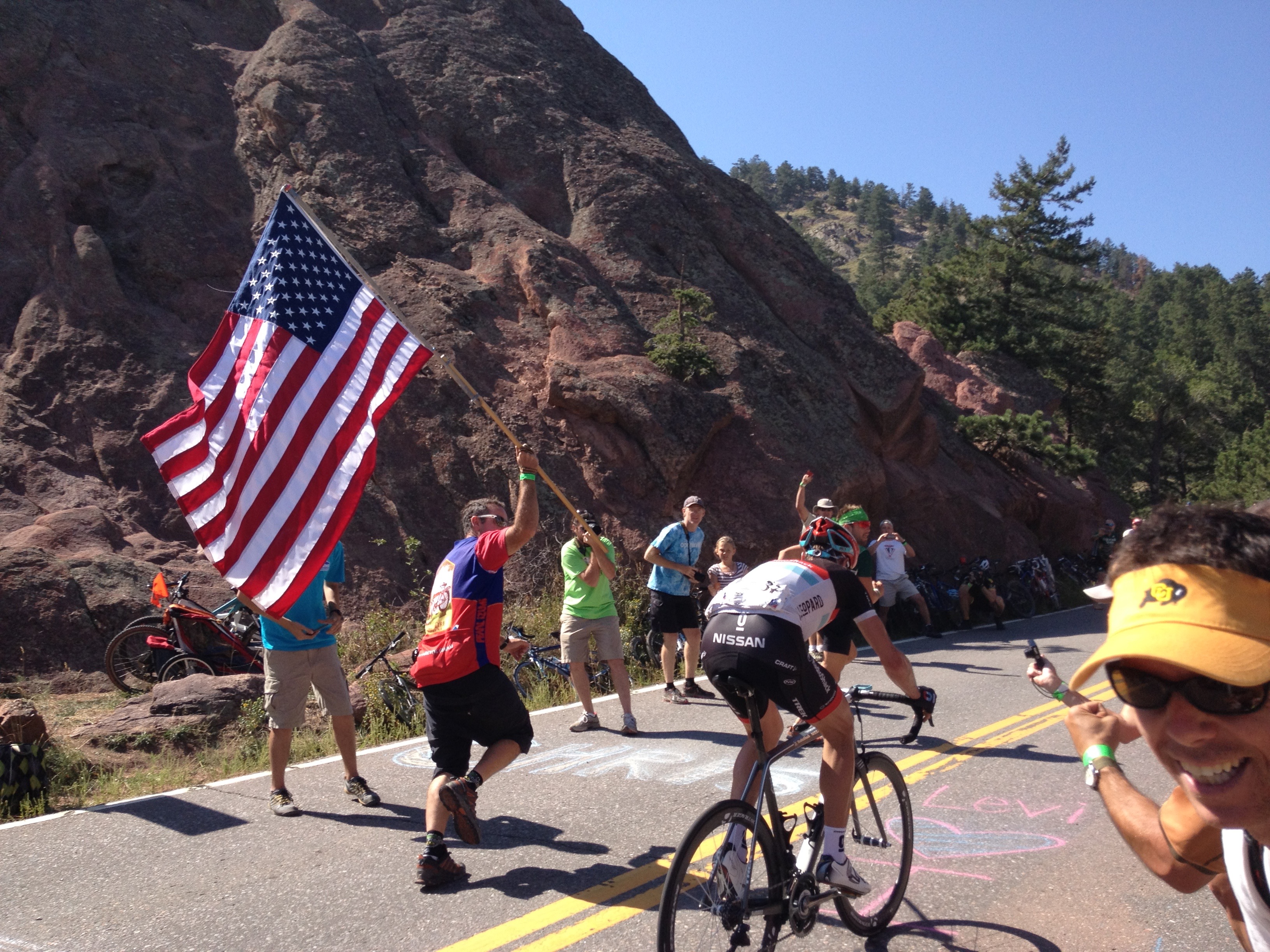 Our time with Grandpa was a full of fun and surprises, but it was especially memorable for the kids. Their time with old friends at the beginning of our stay was great, and their new neighbor friends were great, but having family who love them just as they are, makes all the difference. It warms my heart to know that even though distance separates them and they do not get to spend large amounts of time with their grandparents, aunts & uncles, and cousins, the significance of them in their lives is crucial to their well-being and stability. The connection is surreal, yet intimate, and much better than fiction.
PS! I hear the videos work, hooray! I also fixed my comments, hooray! :)!